Overview
Acetec has professional technology for dustproof, earthquake-proof and temperature treatment requiring to industrial PC and provides the service to design and manufacture special purpose customized industrial PC by optimized system design to the industrial site and the design for arrangement of sash and radiant heat.
Quality Management System Certificate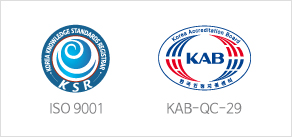 Industrial PC of Acetec is certified the reliability of the product for domestic customers by acquiring KC certificate mark which is national integrated certificate mark. Also, it is possible to acquire all the certificates for each country for domestic and overseas market through national official certificate institute. In addition, we verified and maintaining the quality and the effort for customer satisfaction effectively by quality management system certificate according to ISO 9001:2008 / KS Q ISO 9001:2009. View Product Certificate
Product Characteristic and Service
Enclosed sash

Block dust inflow
Dust environment condition: IP5 (Korea Safety Certificate Center)

Fanless design

Low noise: Less than 20 dB
(0 dB when use SSD)
Fanless power supply

Earthquake-resistant design

HDD vibration prevention device
Vibration: 20~200Hz, 1G, X, Y, Z 3-axis
(Completed the test by the Small and Medium Business Administration)

Fanless radiant heat technology

Parallel type heat sink (Patent technology)
Heat sink contact prevention safety cover

Wide application

HMI/controller for industrial site with high temperature and lots of dust
Process monitoring HMI
Process control L1

I/O expansion device

Fixed slot
(Provides 1, 4, 7 slots)
Possible to combine various input output device
Technical Characteristics

Durability strong to vibration
Fanless design to block the dust
High performance CPU equipment to enlarge HMI usability
Product group possible to install various type
Secure the compatibility and expandability of the application

Effects

Remove the cause of small faults by dust inflow prevention design
Reduce fan clean/maintenance cost
Increase work efficiency and productivity with enlarged availability
Increase work concentration by removing fan noise
Low-carbon/eco-green
Reduce 80% of the energy comparing existing computer

Fanless radiant heat technology

The heat of major radiant heat parts such as CPU, GPU, I/O and so on transferred to parallel type heat sink passed through heat pipe module and naturally released by heat sink.
Fanless radiant heat technology / Parallel type heat sink
The heat of major radiant heat parts such as CPU, GPU, I/O and so on transferred to parallel type heat sink passed through heat pipe module and naturally released by heat sink.

Applications
Multi function business machine for administrative net

Special purpose PC for administrative net

Construction vehicle system

Iron/steel manufacturing and water/wind power generation system state monitoring

Railway and train control

Facility automation, unmanned automation, petroleum/chemical factory control

Semiconductor quality test

Manufacturing quality test

Industrial Automation and control

Networking and communication
Major Customers
- Deals with more than 300 major domestic government institutions
Customizing success cases
40U 10NODE Super Computing System

Portable radar navigation sensor

36U Modeling and Simulation System

ACE-BoxIPC-ISIG (Vessel satellite gateway device)

MR-450 (Sensor data converter for vessel)

ACE-LI-AG-001 (Performance simulator)

ACE-HD-10T (Integrated navigation sensor gathering device)
Prototype production stage

Real product mass production
All the processes from 3D modeling, tool design to prototype production (Mock-up), mold production and mass production is executed at our manufacturing factory as a one-stop system.